Category Archives:
Events
Categories: Events
| Posted 03-21-22
Categories: Events
| Posted 04-28-20
Join us at the Astoria Scandinavian Midsummer Festival June 17, 18 & 19, 2022 at the Clatsop County Fairgrounds. During the three days of the festival over a dozen Scandinavian musical, dance, and theater groups are scheduled to entertain. Retail booths will offer handcrafts, Scandinavian import items, and traditional Scandinavian foods. For more information go to https://astoriascanfest.com/.
Categories: Events
| Posted 06-23-15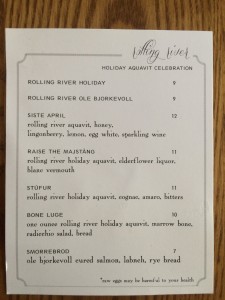 Fenrir is hosting a Release Party for our Rolling River Spirits Bjørkevoll's Holiday Aquavit this Thursday June 25th from 6:00pm to 9:00pm.
Master Distiller Tim Rickard will join them behind the bar for an evening of drinking and education as we release our Holiday Aquavit!  They'll be mixing up special cocktails to pair with Fenrir's wonderfully delicious Scandinavian fare!
For more information check out Fenrir's Facebook event page.
Skol!