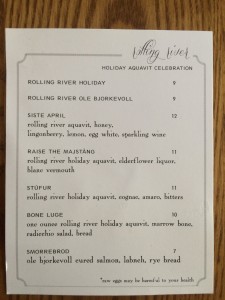 Fenrir is hosting a Release Party for our Rolling River Spirits Bjørkevoll's Holiday Aquavit this Thursday June 25th from 6:00pm to 9:00pm.
Master Distiller Tim Rickard will join them behind the bar for an evening of drinking and education as we release our Holiday Aquavit!  They'll be mixing up special cocktails to pair with Fenrir's wonderfully delicious Scandinavian fare!
For more information check out Fenrir's Facebook event page.
Skol!