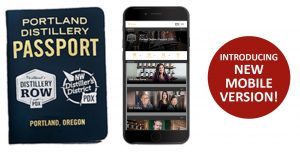 Experience Portland's Distilleries!
The Portland Distillery Passport offers an interactive and cost-saving tour of Portland's top distilleries, including the famed Distillery Row and NW Distiller's District.
Passport includes:
* Tastings at 11 Distilleries
* Distillery Profiles
* Cocktail Recipes
* Maps
* Touring Information
Nearly 100 unique spirits manufactured within Portland city limits… gin, aquavit, rum, whiskey, vodka, brandy, specialty liqueurs, and many more. The greatest concentration of distilleries in the world!
Please keep in mind that this is a mobile-exclusive product. You will not be receiving a physical passport. – For more information and to purchase a mobile passport go to: www.proofpdx.com/rollingriver
The original passports are available at our tasting room and at other participating Distillery Row tasting rooms and online at ProofPDX.