Master Distiller, Tim Rickard, built Joan a micro-still to use for making experimental batches. See our Q&A with Tim on his hand-built stills.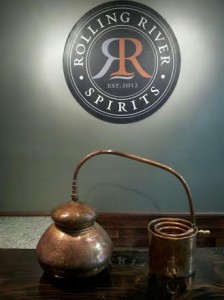 What is unique about working with such a small still?
Because of its small size, each batch takes about 8 hours to run and usually yields about one cup of spirits.
What have you made so far?
So far, I have distilled a couple batches of vodka, but mostly I've been distilling gin. I've tried about 20 different variations of my gin recipe. One of the last runs was pretty close to the flavor I'm trying to achieve. I expect it will take at least another 20 to 50 runs before I'm happy with it.
Anything you would like to make in the future?
For now I want to perfect my gin recipe. Later, I would like to try some fruit brandy. It's fun to try new and different flavor combinations.