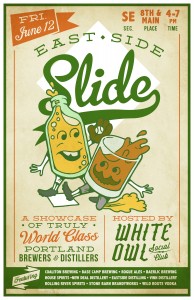 EASTSIDE SLIDE AT WHITE OWL SOCIAL CLUB
Friday June 12th, 4 – 7 pm
The gang at White Owl Social Club is throwing a party with some of their favorite central east side brewers and distillers. Come hang out, rub some elbows, eat some tasty White Owl grub, and sample some of the finest beer and booze Portland has to offer, all on their famous patio. Cheers to summertime!