Mark Perry presents his prints at Rolling River Spirits tasting room August 7th – 30th.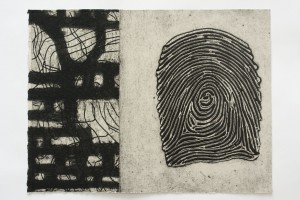 10 MP Fate by Mark Perry
Artist's Statement:
"My name is Mark Perry. I am an artist printmaker working out of my own printmaking studio. I work mainly in etching, relief, collagraph, woodcut, and intaglio methods. I am interested in layering, sequencing, variation and repetition. Most of my imagery is non-representational with symbolic and recognizable elements involved. Most of my prints are one of a kind, and all of them are hand printed via a press."
Mark Perry graduated from University of Hawaii at Manoa with a BFA in Printmaking. He has shown his work in many galleries in the Portland area.