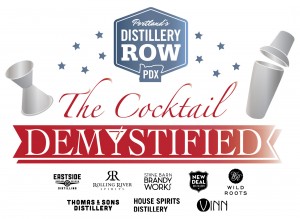 Sunday, May 15th noon-6 pm
Location: Distillery Row (Eastside Distilling, House Spirits, Wild Roots Vodka, New Deal Distillery, Stone Barn Brandyworks, Rolling River Spirits, Thomas & Sons Distillery, Vinn Distillery)
Nothing beats the classics. At least that's true when it comes to cocktails. Old Fashioned, Gimlet, Margarita, Mule, Julep, and more. When it comes to these traditional libations you may be surprised that there's a right way and, well, other right ways to make these time-honored favorites.
Still, there's a reason these cocktails have survived and thrive today. They each have their own history as well as require special tricks of the trade to make sure you're serving the best cocktail possible. Now here is your opportunity to learn not only how to make top-notch cocktails in the "classic" sense but also how to be creative and learn a few variations utilizing the spirits of Portland's best craft distillers.
Join Eastside Distilling, Vinn Distillery, New Deal Distillery, Stone Barn Brandyworks, House Spirits, Rolling River, Wild Roots Vodka, and Thomas & Sons Distillery on Sunday, May 15th for an afternoon of spirits tasting, cocktail instruction, and good times.
Visit each distillery to participate in a unique presentation that features history, fun-facts, and a comprehensive demonstration of how to make each classic cocktail with a twist. Learn about the techniques of effective home-bartending, the importance of mixers and garnish, as well as how these cocktails have evolved in conjunction with the rise of the independent craft-distilling movement. Presentations run throughout the day so just drop by your favorite distillery (or two or three) and let them help you up your bartending skills!
Wild Roots Vodka – Mule
Eastside Distilling – Julep
New Deal Distillery – Gimlet
Thomas & Sons Distillery – Bijou
Rolling River Spirits – Mojito
Vinn Distillery – Margarita
House Spirits Distillery – The Oregon Old Fashioned
Stone Barn Brandyworks – Sazerac
Admission: Presentations are free. Regular tasting fees apply for further tastings.
For more information visit our event page on Facebook
or call 503-803-3989 or email mph@proofpdx.com
www.distilleryrowpdx.com https://www.facebook.com/events/1722033491372257/