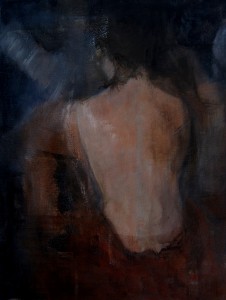 Dianna Ferenz presents her paintings at Rolling River Spirits April 3 – 26.
Artist's Reception Friday, April 3, 5 -8 pm.
Artist Statement:
"For everything that is unique to an individual, if it does not wish to be silent, needs its proper language." (Rilke) My mode of language is painting in a highly abstracted voice of dream, poetry, myth. Between space and shadow, paintings emerge more stream of consciously than contrived. My work have been described as ethereal, evocative, emotive, sometimes nostalgic–perhaps trying to capture fleeting moments-the viewer adds the signified. Solitude and silence provide the back space for these reflections; themes of mirrors, water and night recur.
The words of poets and storytellers resonate then fade, their echoes transforming into time-intensive, multi-layered images…